Don't ask me why I chose that atrocious alliteration for this post, except that it's a Thursday, and its a holiday tomorrow here, so I have finally coaxed myself back to blogosphere. Thursday Toll is also a round-up of the most happening and most demented events of my life this past week. So, smile and read on...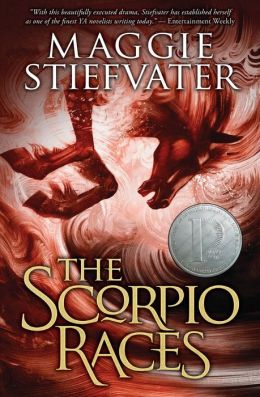 First, I read
The Scorpio Races
by Maria Steifvater. This author has grown on me. I hated her werewolf
Shiver
series, and purposely avoided reading the sequels, because they reminded me too much of Twilight. A bias that I decided to overcome with
The Scorpio Races
, and boy, did I love it! There is a mysterious island, on which humans and seafolk co-exist under some ancient delicate pact. Seafolk includes the hippocamp, or the waterhorse, which is a sort of carnivorous sea-racing horse. Every year, the villagers keep their end of the pact by throwing an annual race of the waterhorses. Steifvater describes the perils of such races quite well, and the curious aching longing that seafarers feel for the sea is also brought out quite well. Life by the sea is both so close-knitted and insular, and is told through the eyes of Puck, a girl who enters the races in a desperate bid to keep her elder brother from abandoning their family. Puck would possibly be the Irish YA urban fantasy version of
National Velvet,
and is a charming heroine. I would rate it an 8 out of 10.
Second, I dabbled a bit at writing, and let me tell you, I positively suck at it. It goes well for a para or two, then I end up putting too much of myself into the pages and have to stop. Then my imagination runs out, and after that, my time. Yes, precisely in that order. By the way, I found this god-awesome book on writing called
Bird by Bird,
by Anne Lamott. Lamott writes that storytelling should be taken step by step, bird by bird, and not with a view to write everything at one go. This means that there's bound to be a lot of Shitty First Drafts. Ahem,
certainly have a lot of those.
Third, my TBR pile is currently exploding. I've decided to stock them up in genres and read one of each. There's
Waking the Moon
by Elizabeth Hand (hardcopy couriered from Amazon) which is fantasy.
Bring Up the Bodies
by Hilary Mantel (historical fiction);
Jagannath
by Karin Tidbeck (science fiction);
The Food of the Gods
by Terence McKenna (non-fiction);
False Economy
by Alan Beattie (economics);
V is for Vengeance
by Sue Grafton (mystery) and
Women who run with the Wolves
by Clarissa Estes (psychology). Fear my TBR Pile, folks, because I'm determined to demolish them all—and you'll have to read the reviews. If you have any experience of my reviews, you will know that they are long, verbose, wordy and more like a thesis than anything else. I pity You Who Reads My Reviews.
( And there's more babbling... )